Product Description
About the AH-1Z Viper - Zulu Cobra Attack Helicopter:
An early manufacturer of military and civilian helicopters, the company Bell has designed aircraft for the U.S. military for 70 years, beginning with the H-13 Sioux or "M.A.S.H." helicopter. Developed in the 21st century, the AH-1Z "Viper" is a variant on the AH-1Z Super Cobra. This attack helicopter can be equipped with a wide variety of weapons, including AIM-9 air-to-air missiles and Hellfire anti-tank missiles.
The Viper is currently deployed with American forces in Afghanistan. The United States Marine Corps intends to deploy the AH-1Z until 2030.
Specifications:
Engine: 2x General Electric T-700-GE-401C turboshafts
Speed: 209 mph (337km/h)
Crew: 2
Range: 264 mi (425 km)
Armament: 20 mm cannon, AGM 114/B/C anti-tank missiles, AIM-9 air-to-air missiles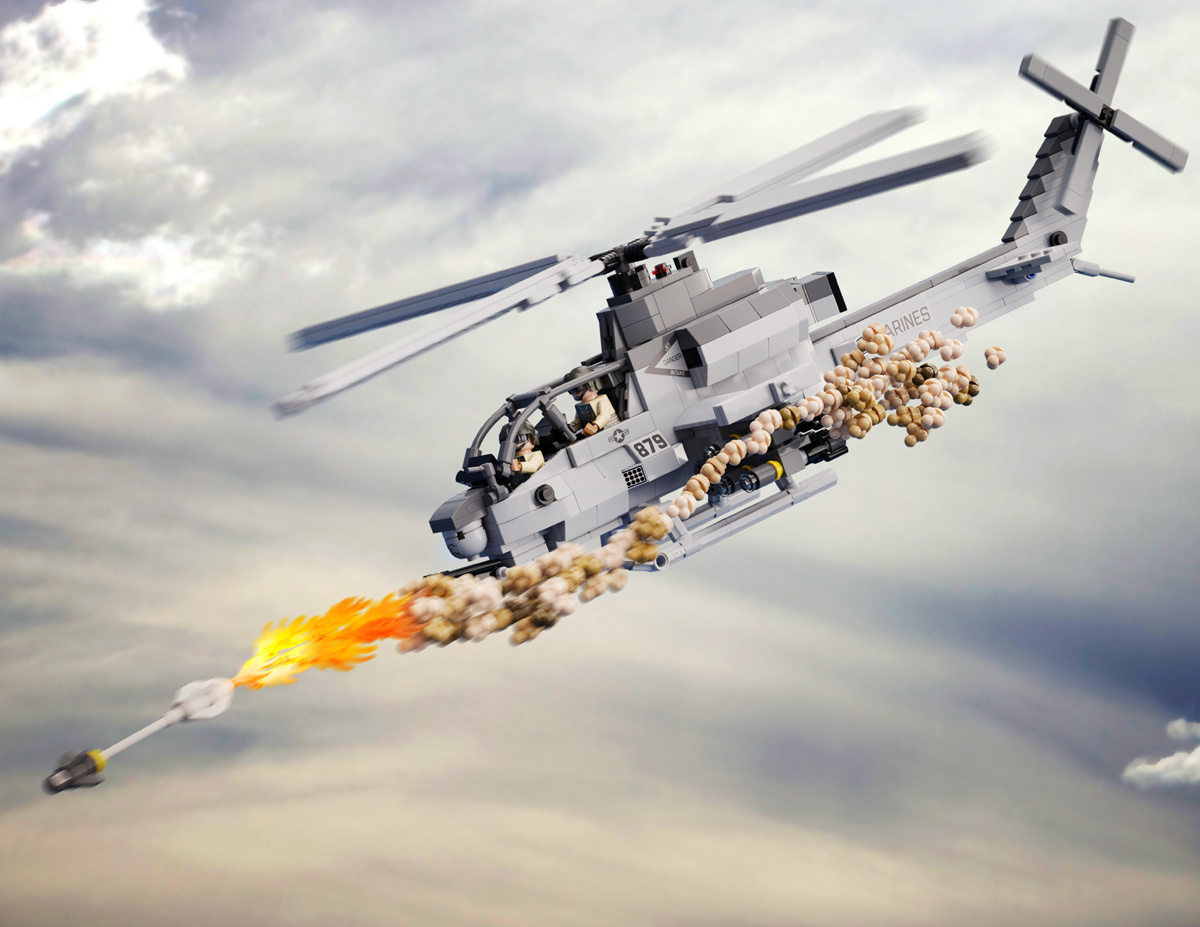 Additional information about this Brickmania custom building kit:
The AH-1Z Viper - Zulu Cobra Attack Helicopter kit comes with the following features
Fully redesigned Cobra gunship airframe
Two custom-printed minifigure pilots
Custom-printed elements
High-quality sticker sheet with current U.S.M.C. markings
591 LEGO®, BrickArms® and Minifig.Cat elements
Load-Out Weapons Pack sold separately
1/35th scale to match other Brickmania models
All Brickmania model kits are made of new-condition LEGO bricks. This model comes disassembled and includes complete printed building instructions and comes packaged in a sealed box. This is a limited-edition kit and production may be discontinued at any time.
---
AH-1Z VIPER - ZULU COBRA ATTACK HELICOPTER ACCESSORY
Custom Field
Skill Level
Intermediate (3 of 5)
Product Reviews