Product Description
About the V-150 Commando - 4x4 Amphibious Armored Vehicle with 90mm Gun:
The M706 Commando is a 4x4 amphibious armored car built by the American firm Cadillac Gage. It fulfills a variety of support roles for military operations such as troop transport and ambulance service. It also has anti-tank capabilities. The M706 Commando saw active combat on many warfronts ranging from Vietnam to the Gulf War. The V-150 variant was deployed mainly by the Saudi Arabian National Guard.
V-150s were designed much like the earlier V-100s, but were equipped with modified suspension units. The hull was redesigned to carry heavier weapons systems, such as the Portuguese version which features a 90mm main gun.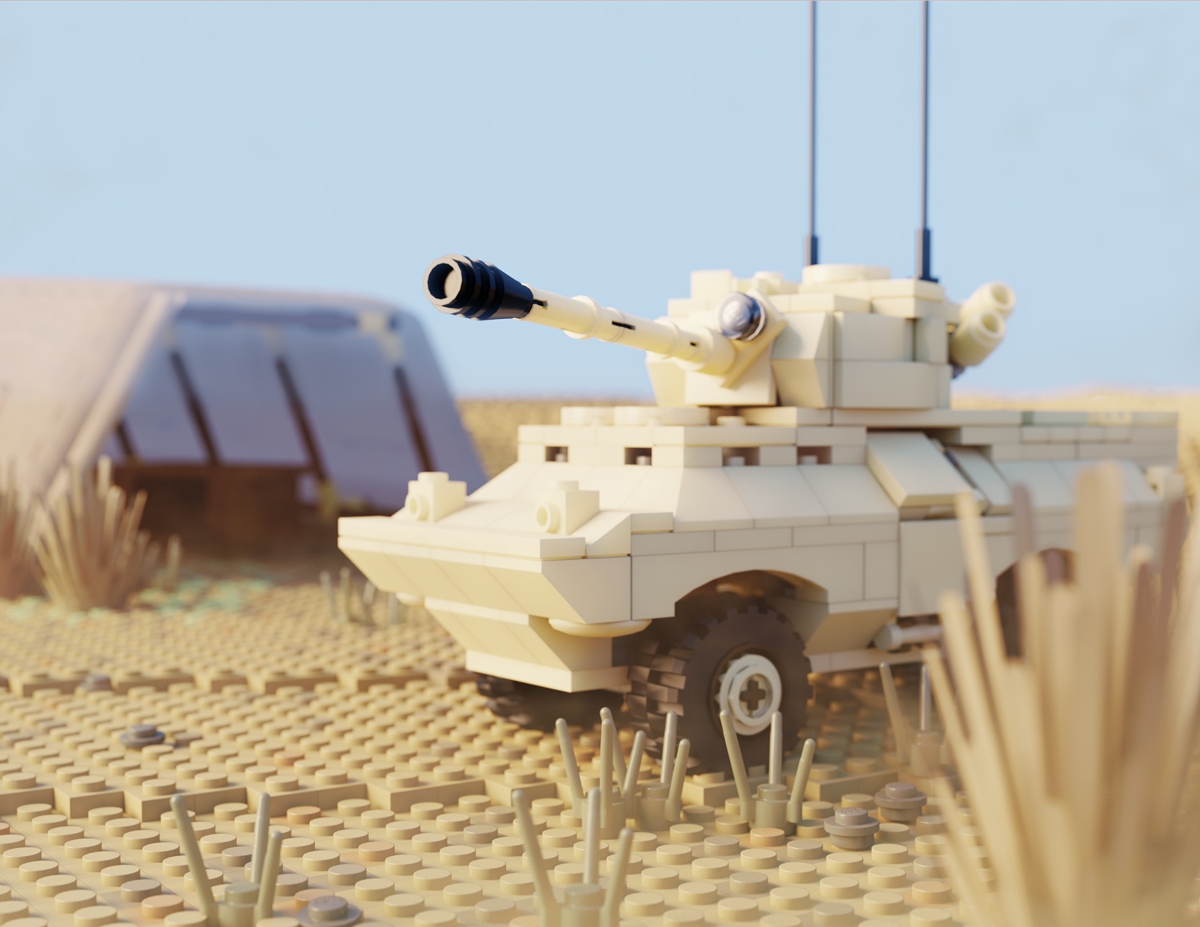 Specifications:
Crew: 3+2
Armor: .25 inch Cadaloy alloy steel
Main armament: Cockerill Mk3 90mm gun, 20mm, 7.62mm machine gun
Secondary armament: 2 x 6 40 mm Smoke dischargers
Engine: V-504 V8 Turbocharged diesel engine
Operational range: 400 mi
Speed: 62 mph road, 3.1 mph water
Additional information about this Brickmania custom building kit:
The V-150 Commando - 4x4 Amphibious Armored Vehicle with 90mm Gun kit comes with the following features:
1/35 scale to match other Brickmania models
Designed by Daniel Siskind
Three opening crew hatches and BrickArms Combat LMG for the vehicle commander
Custom printed Saudi Arabian National Guard Soldier with Desert Storm appropriate uniform (additional figures available separately)
Includes 324 genuine new-condition LEGO® elements & BrickArms elements
Intermediate Skill Level (4-6 years of experience with LEGO is recommended)
All Brickmania model kits are made of new-condition LEGO bricks. This model comes disassembled and includes complete printed building instructions and comes packaged in a sealed box. This is a limited edition kit and production may be discontinued at any time.
Video Preview:
Product Videos
Custom Field
Skill Level
Intermediate (3 of 5)
Product Reviews