Product Description
The SdKfz 11 was a German half-track that was used extensively throughout WWII. It was primarily used to tow medium guns, from the FlaK 43 to the 10.5 cm leFH 18 field howitzer. Two different upper bodies were built during the production run of the SdKfz 11: The Artillery and the "Engineer". The Artillery body had an ammunition compartment with doors on either side of the vehicle with configurations for different types of ammunition. Benches on the vehicles side could seat 6 crewmen and allowed for additional underseat storage. The Engineer body had 3 benches for crew and storage under the seats. Since neither version was armored they typically were stationed well behind the frontline.
The LeFH 18 was the standard divisional field howitzer used by the Wermacht in WWII. In 1941 the original design was fitted with a muzzle break allowing for greater range. With a 105mm (4.13 in) shell and a range of 10,675 m (11, 675 yards - over 6 miles) it was a powerful and versatile piece of artillery.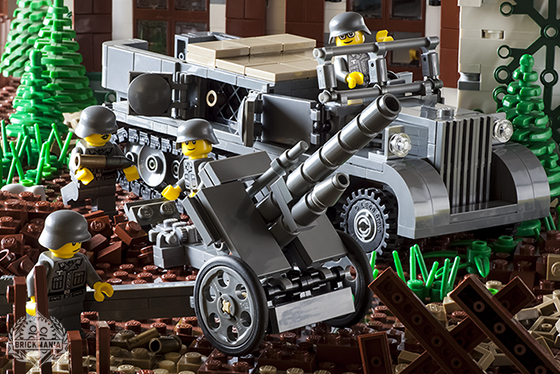 Additional information about this Brickmania custom Lego® kit:
The SdKfz 11 with leFH 18 and Crew has the following features:
Dark Grey colored half track and light howitzer , ideal for European dioramas.

Articulated Brickmania Track Links™ tank treads
Four exclusive custom printed Heer soldier minifigures
Four BrickArms Artillery shells.
Sturdy construction means lots of play possibilities
1/35 scale to match other Brickmania models
Includes 487 genuine new-condition LEGO® bricks, Brickmania Track Links™ and BrickArms® elements
Comes with a signed and numbered certificate of authenticity
Intermediate Skill Level (4-6 years experience with LEGO is recommended)
Kit limited to 100 copies
All Brickmania model kits are made of new-condition LEGO bricks and this one includes compatible accessories by BrickArms. This model comes disassembled,includes complete full color printed building instructions and comes packaged in a sealed box.
Product Videos
Custom Field
Skill Level
Skill Level: Intermediate (3 of 5)
Product Reviews