Product Description
About the Panzerjäger Tiger (P) Ferdinand - German Heavy Tank Destroyer:
In early 1941, German companies Porsche and Henschel were asked to design a 45-ton tank for the new Tiger project. By the time Porsche lost the design contest to Henschel, they had already manufactured 100 Tiger chassis. Unable to equip these existing chassis with the Krupp Tiger turret (they were reserved for Henschel), Porsche proposed they be converted into a tank destroyer.
The result was a massive vehicle both heavier and longer than the Tiger. Named the Ferdinand after the founder of Porsche, this behemoth was equipped with the PaK 43/2 L/71 88mm cannon, a longer version of the 88mm cannon fitted to the Tiger. Although powerful, the size of the Ferdinand created a host of problems, including slow speed and mechanical breakdowns. The vehicle also lacked a machine gun and adequate vision ports, making it susceptible to infantry armed with anti-tank weapons and Molotov cocktails.
Despite these shortcomings, the Ferdinand's range and shell velocity made it dangerous to any approaching enemy armor as they outgunned anything the Red Army had available at the time. After initial losses at Kursk, the Ferdinand was retrofitted with a number of upgrades and re-deployed as the Elefant.
Specifications:
Crew: 6
Top Speed: 19 mph (30 km/h)
Range: 93 mi (150 km)
Engine: 2x Maybach HL 120 petrol
Armament: 88mm PaK 43/2 L/71
Total produced: 91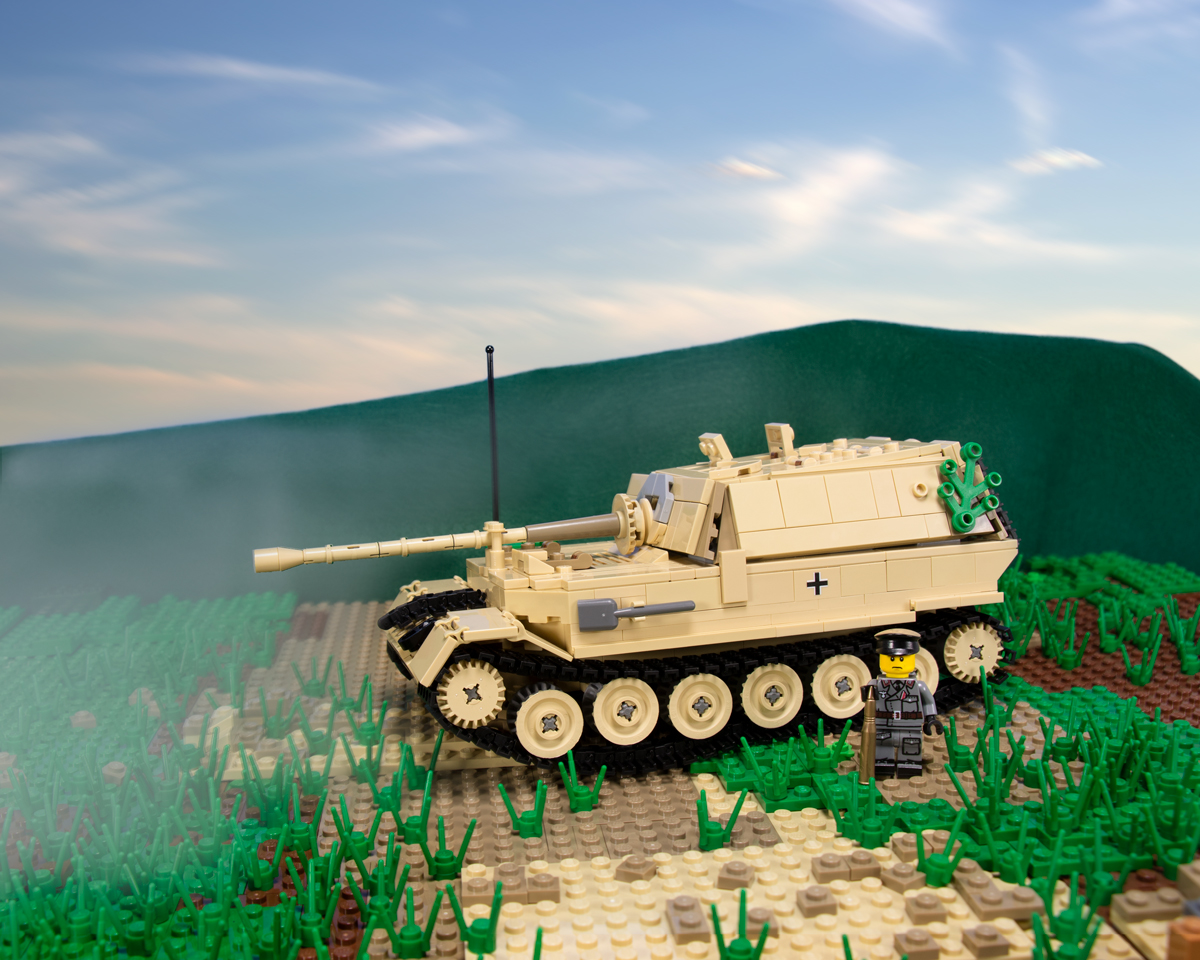 Additional information about this Brickmania building kit:
The Panzerjäger Tiger (P) Ferdinand - German Heavy Tank Destroyer kit comes with the following features
BrickArms: 4x U-clips, 3x 88mm shells, and a tapered gun barrel
Custom-printed elements
Five opening hatches
Removable top and vent panel for easy access
A 360-degree custom-printed minifigure
Elevating gun with working gunlock
LEGO® tracks
Spacious interior with room for a full crew of six
1/35 scale
All Brickmania model kits are made of new-condition LEGO bricks. This model comes disassembled and includes complete printed building instructions and comes packaged in a sealed box. This is a limited-edition kit and production may be discontinued at any time.
---
Add-On Pack for the Panzerjäger Tiger (P) Ferdinand:
Custom Field
Skill Level
Intermediate (3 of 5)
Product Reviews