Product Description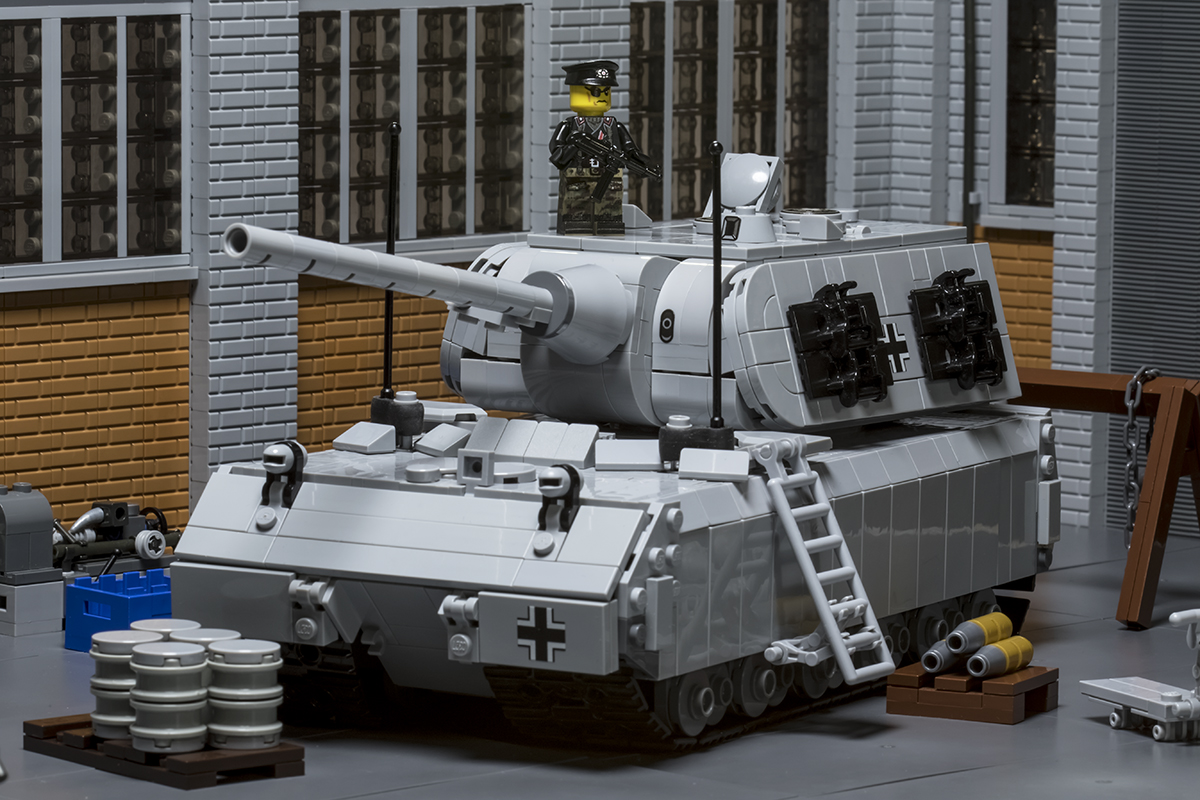 About the Panzer VIII Maus:
The Panzer VIII Maus was a super-heavy tank completed in late 1944. Five were originally ordered, but only two hulls and one turret were completed before the testing grounds were captured by the advancing Soviet forces. These two prototypes underwent trials in late 1944. The Maus' main armament was the Krupp-designed 128 mm KwK 44 L/55 gun. The 128 mm gun was powerful enough to destroy most Allied armor at ranges exceeding 3,500 m.
The problem in the design of the Maus was developing an engine which was powerful enough to propel the tank, yet small enough to fit inside it. The drive train was electrical, designed to provide a maximum speed of 12 mph. The vehicle's weight made it unable to utilize most bridges. Instead, it was intended to ford to a depth of six feet or submerge up to a depth of 26 feet and use a snorkel to cross rivers. The Maus was designed to be deployed against heavy defensive positions while being supported by smaller tanks and infantry. There is a captured Maus prototype on display by the Kubinka Tank Museum in Russia.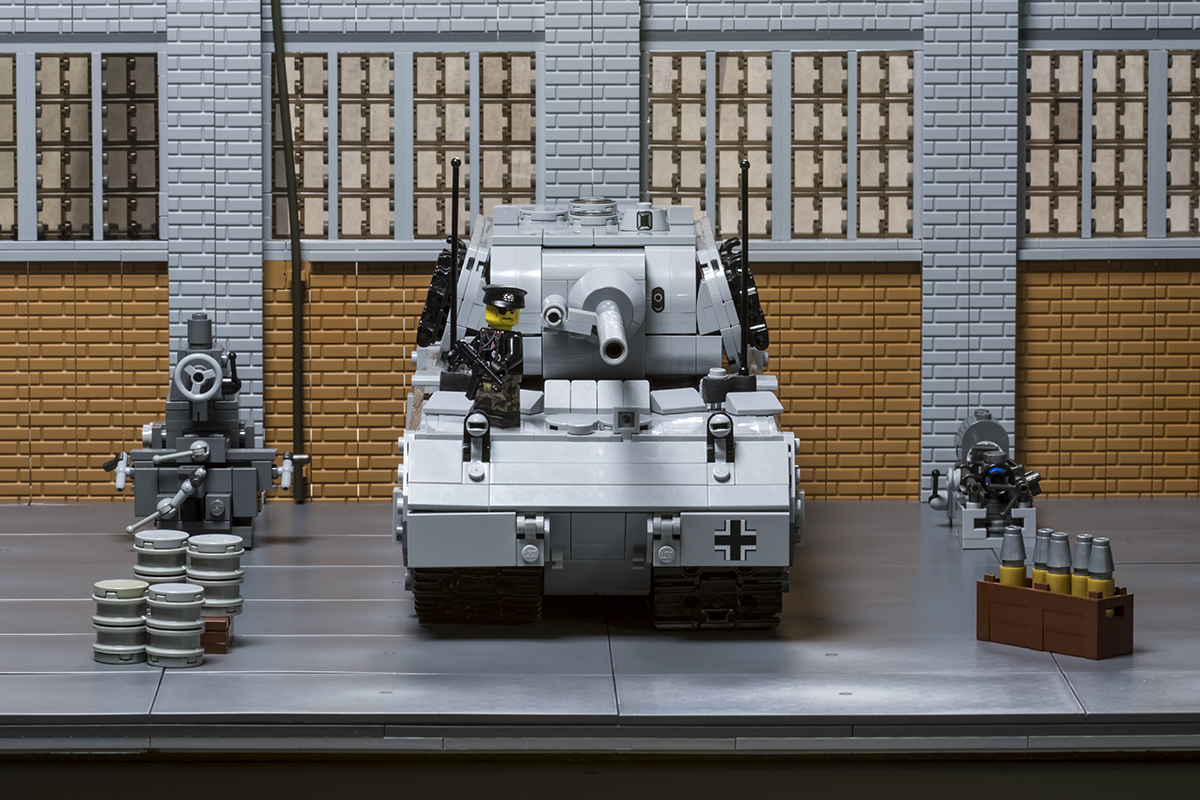 Specifications:
Number built: 2 (of which 1 incomplete)
Weight: 188 tons
Crew: 6
Armor: 220 mm turret front, 200 mm turret side and rear, 200 mm hull front, 180 mm hull side, 150 mm hull rear
Main armament: 128 mm KwK 44 gun L/55 (68 rounds)
Secondary armament: 75 mm KwK 44 gun L/36.5 (co-axial with 100 rounds), 7.92 mm MG 34 machine gun (co-axial with 1,000 rounds); MP40
Engine: MB509 V12 petrol engine DB 603 derivative (V1); 1,200 hp (V2)
Operational range: 99 mi (road), 39 mi (off road)
Speed: 12 mph maximum; 11 mph average road speed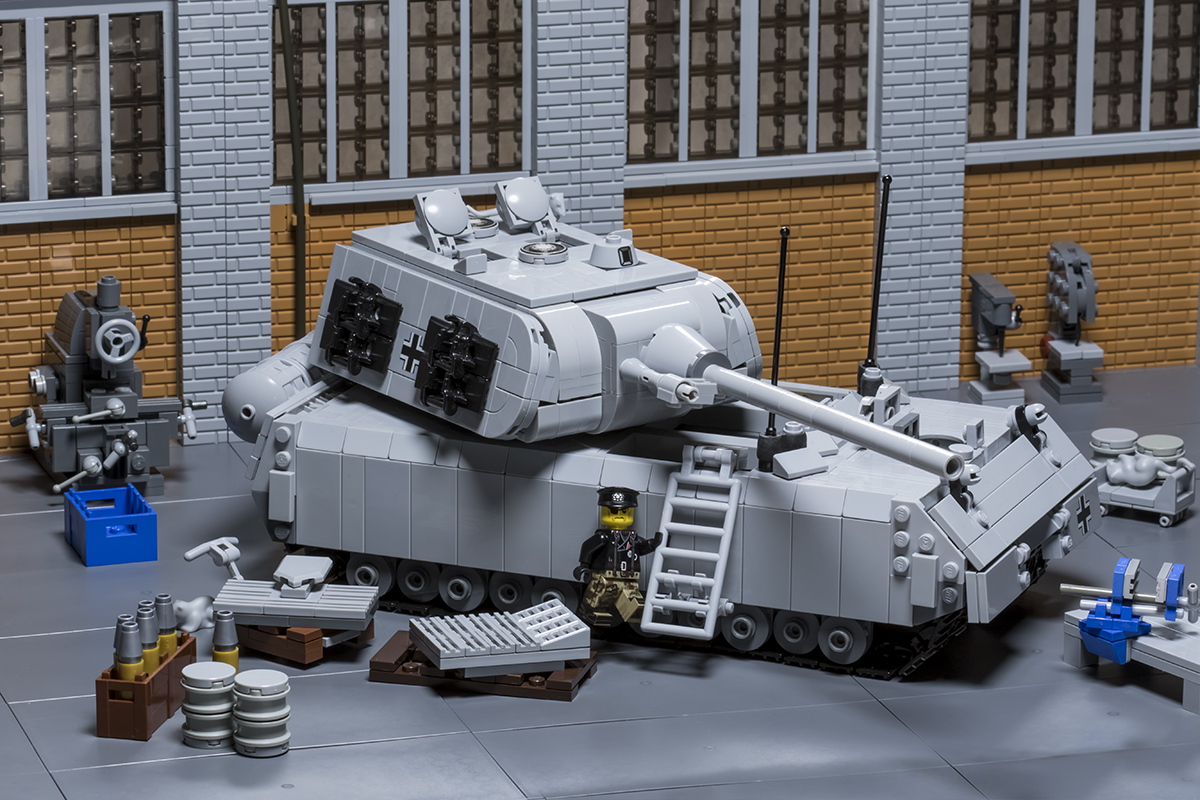 Additional information about this Brickmania custom building kit:
The Panzer VIII Maus comes with the following features:
Features detailed interior with 7 opening hatches
Working rotating turret controller
Includes one

WWII German Maus Commander custom-printed minifigure

5 stud-wide technic track links included
Removable fuel tank
Includes 16 brick built shells, 6 BrickArms shells and BrickArms MG34 + MP-40
Featuring one of a kind spring back antennas
Designed by Yitzy Kasowitz
1/35 scale to match other Brickmania models.
Includes 1096 genuine new-condition LEGO® bricks and BrickArms® elements
Advanced Skill Level (4-6 years of experience with LEGO is recommended)
All Brickmania model kits are made of new-condition LEGO bricks. This model comes disassembled and includes complete printed building instructions and comes packaged in a sealed box. This is a limited edition kit and production may be discontinued at any time.
Custom Field
Skill Level
Advanced (4 of 5)
Product Reviews