Product Description
About the M46 Patton - Cold War Medium Tank:
Considered the first "Main Battle Tank", the M46 Patton was designed to replace the aging World War II-era M4 Sherman and M26 Pershing. When communist forces invaded South Korea in 1950, they fielded the iconic Soviet-built T-34/85. The United States responded with the Patton, packing a punch with a 90mm main cannon and three machine guns. The M46 was also better suited for the mountainous Korean terrain by having a better power-to-weight ratio than its predecessors. The M46 and its future generations continued to see use through the Vietnam War.
The M46 Patton was produced in small numbers (800+) compared to the mass tank production of the Second World War. An improvement on the underpowered M26 Pershing, the M46 had some limited success. Although designers updated the engine to better suit the tank, most causalities were still due to mechanical problems. Some of this may have been due to the rough terrain of the Korean Peninsula. In combat, the M46 was effective against enemy armor, facing World War II-era Soviet T-34/76 and T-34/85 in limited numbers. The Soviet medium tank had significant trouble against the much-heavier and better armed M46.
The M46 is often seen in popular culture with a "tiger" design on the front of the tank, an attempt at psychological warfare. Legend has it that this was intended to draw on superstition surrounding tigers by the Chinese. The M46 was also deployed with a dozer variant, allowing the tank to clear obstacles. After the Korean War, several M46's were retained along the DMZ to help enforce the truce. Soon replaced by the much-improved M47 Patton, the remaining M46's were used primarily across Europe for training purposes. The Patton line continued to see success serving as a main battle tank for the US military until it was replaced by the M1 Abrams in the 1980's.
Specifications:
Engine: Continental AVDS-1790-5A V12 twin turbo, 800 hp
Speed: 30 mph (48 km/h)
Range: 80 miles (129 km/h)
Armament: 90mm M4A1 main cannon, 50 caliber (12.7 mm) machine gun, 2 x 30 caliber (7.62 mm) machine guns
Crew: 5
Weight: 49 tons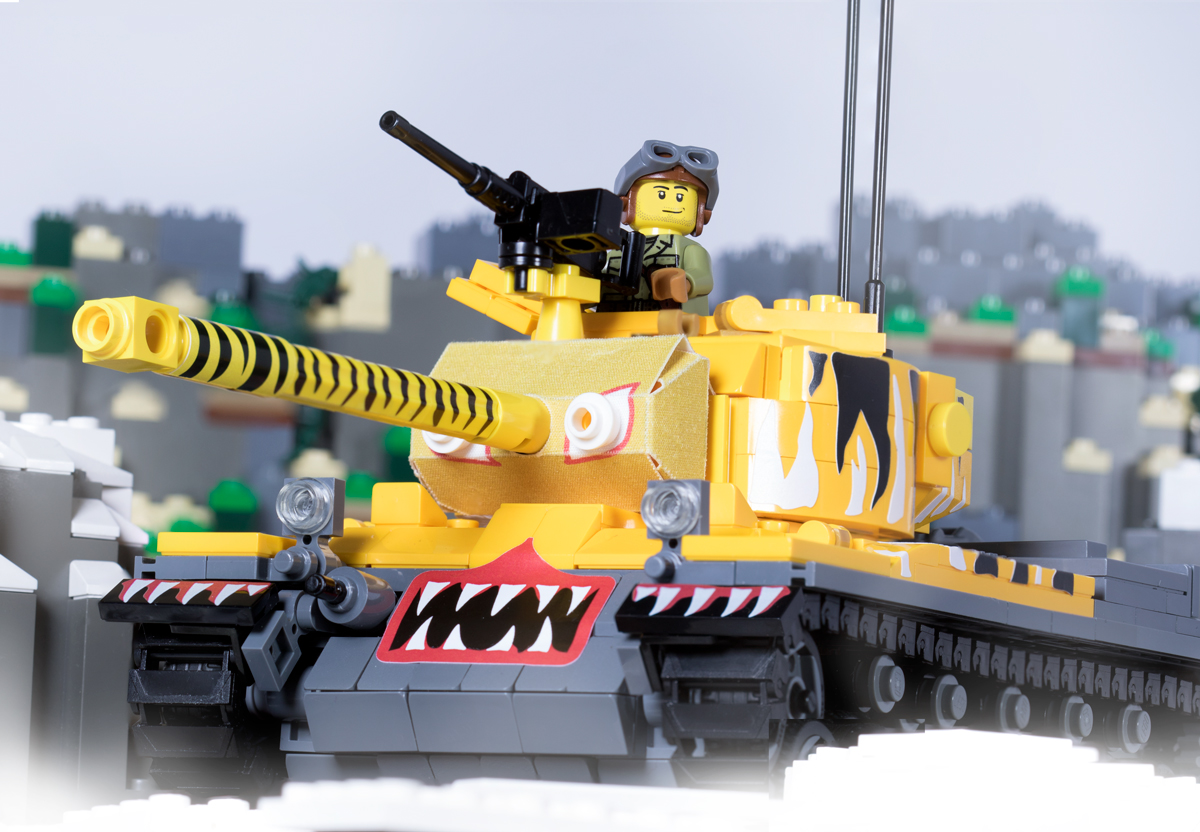 Additional information about this Brickmania custom building kit:
The M46 Patton - Cold War Medium Tank comes with the following features
M2HB BrickArms Machine Gun
Functioning hatches, including engine compartment
Tiger design – printed elements, stickers, and premium textured fabric
Custom-printed Minifigure
Brickmania Track LinksTM
Designed by Cody Osell
Includes 821 genuine new-condition LEGO®, BrickArms, & Brickmania elements
1/35 scale to match other Brickmania models
Advanced Skill Level (6-8 years of experience with LEGO is recommended)
All Brickmania model kits are made of new-condition LEGO bricks. This model comes disassembled and includes complete printed building instructions and comes packaged in a sealed box. This is a limited-edition kit and production may be discontinued at any time.
Video Preview:
Canvas Tutorial:
Product Videos
Custom Field
Skill Level
Intermediate (3 of 5)
Product Reviews