Product Description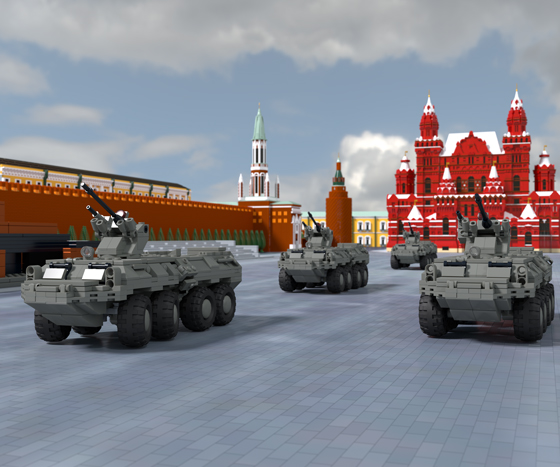 About the BTR-80:
The BTR-80 is an 8x8 wheeled amphibious armored personnel carrier designed in the Soviet Union. Deployed in Afghanistan, the BTR-80's 14.5mm KPVT and coaxial 7.62mm PKT machine gun is crucial, allowing for better engagement in urban fighting and against low flying air targets. Further adding to its urban utility, BTR-80 can climb a slope with up to 60% gradient and climb a vertical step of 0.5 m.
In offering a wide range of capabilities, the BTR-80 is commonplace in modern conflicts. Its ability to transport seven fully-geared soldiers and provide light support makes the BTR-80 popular among military commanders. The BTR-80 amphibious capabilities and top speed of 56 mph allow for quick troop deployment or extraction. It should be no surprise that this vehicle was produced in large numbers and is still in use today.
Additional information about this Brickmania custom Lego® kit:
The BTR-80 has the following features:
Includes one minifig

1/35 scale to match other Brickmania models

Includes 478 genuine new-condition LEGO®, Brickmania and BrickArms elements

Advanced Skill Level (3-4 years' experience with LEGO is recommended)

Features steerable movement with 6 opening hatches

Back of vehicle opens to allow minifigs to enter

30mm turret included
All Brickmania model kits are made of new-condition LEGO bricks. This model comes disassembled and includes completed printed building instructions and comes packaged in a sealed box. This is a limited edition kit and production may be discontinued at any time.
Preview Video:
Product Videos
Custom Field
Skill Level
Advanced (4 of 5)
Product Reviews