Product Description
About the BMP-1 (Iraqi):
The BMP-1 was designed to adapt the changing nature of war. Troops needed to be deployed quickly to counter enemy movements. The BMP-1 was one of the first "armored infantry fighting vehicles". Developed by the Soviet Union, the BMP-1 is a fully amphibious tracked vehicle capable of carrying three crew members and eight soldiers. It saw initial active combat with Syrian and Egyptian forces during the 1973 Yom Kippur War against Israel. Many BMP-1s went through extensive modernization programs undertaken in the mid-1970s, ultimately leading to the BMP-1P.
Numerous flaws existed with the design of the BMP-1, which did not become obvious until the Soviet War in Afghanistan. One such flaw is that the BMP-1 lacks an air conditioning or cooling system, often resulting in heat exhaustion for both crew and passengers.
Prior to the first Gulf War, Iraq bought around 1,000 BMP-1s and 800 BMP-2s from the Soviet Union. Iraq also developed two upgrades for the BMP-1 and one armored ambulance conversion. The vehicle was deployed mainly by the Iraqi Republican Guard.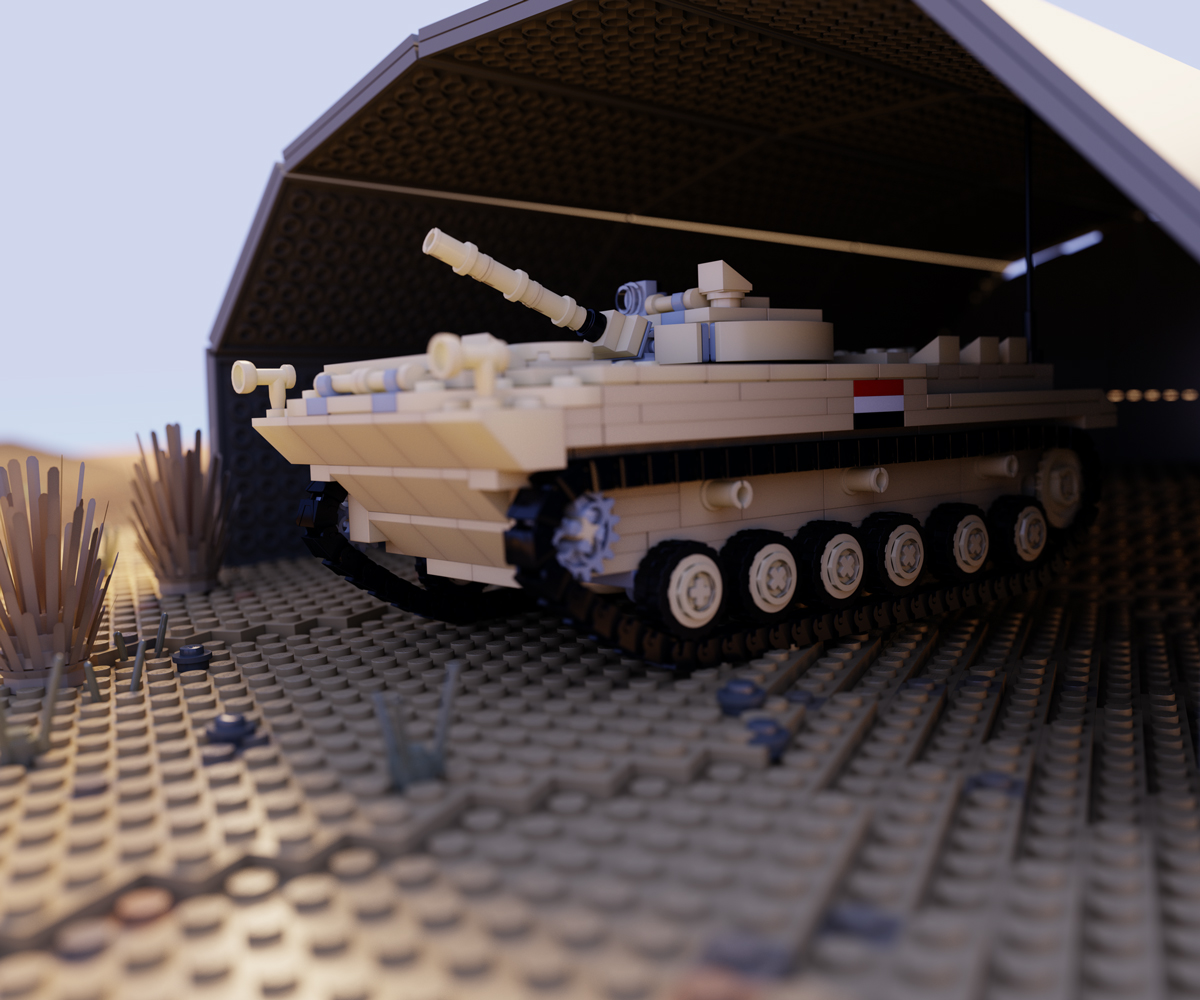 Specifications:
Crew: 3 (commander, driver, gunner) + 8 passengers
Units produced: More than 20,000 of all variants (USSR)
Main armament: 73 mm 2A28 "Grom" low pressure smoothbore short-recoil semi-automatic gun (40 rounds); ATGM launcher for 9M14 Malyutka (4 rounds)
Secondary armament: 7.62 mm PKT coaxial machine gun (2,000 rounds)
Engine: UTD-20, 6-cylinder 4-stroke V-shaped airless-injection water cooled multifuel 15.8-liter diesel
Operational range: 370 mi (road); 310 mi (off-road)
Speed: 40 mph (road); 28 mph (off-road); 4.3-5.0 mph (water)
Additional information about this Brickmania custom building kit:
The BMP-1 (Iraqi) kit comes with the following features:
Nine opening hatches for interior access for crew and passengers
Fully rotating turret with posable main gun and spotlight
Fully articulated Brickmania Track Links tank treads
Custom printed minfig with appropriate Desert Storm-era Iraqi uniform
1/35 scale to match other Brickmania models
Designed by Daniel Siskind
Includes 564 genuine new-condition LEGO® elements & BrickArms elements
Intermediate Skill Level (4-6 years of experience with LEGO is recommended)
All Brickmania model kits are made of new-condition LEGO bricks. This model comes disassembled and includes complete printed building instructions and comes packaged in a sealed box. This is a limited edition kit and production may be discontinued at any time.
Video Preview:
Product Videos
Custom Field
Skill Level
Intermediate (3 of 5)
Product Reviews